Dissecting the interplay between cell membrane signalling, membrane mechanics and cytoskeletal dynamics.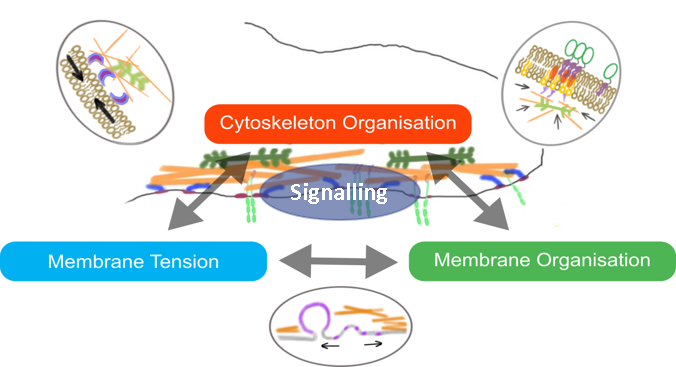 The cell surface is a complex platform for signalling, the intake of nutrients, and the sensing of the extracellular environment. The molecular organisation and mechanics of the cell membrane influence these properties. How membrane organisation is in turn influenced by mechanical cues, remains unclear and controversial (Diz-Muñoz, Fletcher and Weiner, 2013; Anishkin et al., 2014; Köster and Mayor, 2016; Sezgin et al., 2017).



Using reconstituted systems to understand the biophysics driving cell surface dynamics.
In a recent study, we identified the key molecular players important of the interaction betwen cortex dynamics, membrane components and signalling during T cell activation. This was done in an international collaboration using the power of reconstituted systems combined with cell experiments (
Ditlev et al, eLife, 2019
).